Thailand
APPLY NOW
Introduction to Thailand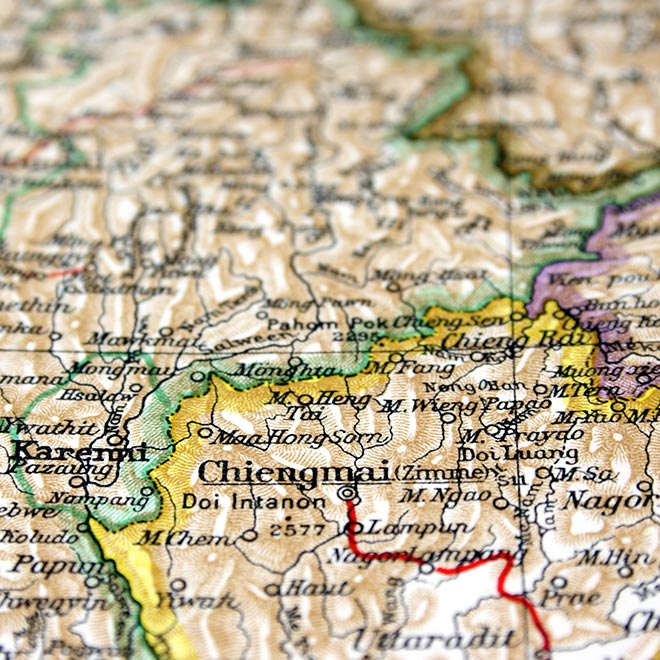 Sawadee Krup and welcome to the Land of Smiles. This is one of the most visually and culturally stunning countries in Asia. It's a land steeped in tradition and culture stretching from its southern border with Malaysia to its northern border with Laos and Myanmar. To the east, Cambodia awaits you with its magnificent Angkor Wat Temples.
Thailand offers you rich and diverse food, national parks, which range from the mountains of Intanon, in Chiang Mai province, to unbelievable beaches in the southern and eastern islands. Thailand is an outstanding travel hub for Asia and the demand for TEFL teachers in Bangkok, and the provinces, is high. Thailand is a fantastic place to live, teach and travel and it offers you excitement, friendship and many visual delights.
Teaching in Thailand
As Thailand continues to grow there is more and more demand for excellent TEFL teachers, in Bangkok and the provinces. Thailand needs a quality workforce to achieve sustainable grow and learning English, in a Tourism based economy, offers huge potential for Thailand's growing population. You can definitely make a difference to the children you teach.


The children you will teach in Thailand are polite and well behaved and have a real desire to learn. You will love teaching in Thailand and they will remember you. Thailand is the land of smiles and you might find that you end up staying longer than a year.
It's easier than you think with Enjoy TEFL.
Living in Thailand
As soon as you set foot in Thailand you will start your adventure. Thailand offers you an array of different places to live in, from Bangkok to the Southern Islands of Phuket. The travel opportunities are endless in Thailand and it's extremely affordable to both live and travel. If you choose to teach in Bangkok then you have many wonderful choices ahead of you. On Friday night you are a 3 hour mini van ride and speed boat to Koh Samet, an idyllic island with candle lite hideaways to discover. Alternatively take a 1 hour flight to Krabi and discover the limestone formations, which define the landscape.
Or why not choose a short hop to see the magnificent Temples of Angkor Wat. Khao Yai national park offers you 2000 square km of tropical jungle and it's only 3 hours away by minivan from Bangkok . Driving through the national park is a great way to spend a breathtaking weekend. Thailand is an excellent place to live and travel.

Bangkok is also a great place to live, and discovering Chatuchat Market, the vibrant restaurants and temples in the capital is great fun. You will meet both Thais and other like-minded travellers and youll wonder why it took you so long to get there. Thailand is an incredibly rich and diverse society and you will love your time there.
Life is Choice
Cost of Living in Thailand
$1 = 32 Baht | £1 = 50 Baht
| | |
| --- | --- |
| Monthly Salary | 20,000 - 50,000 baht per month |
| Private Tutoring per hour | 300 - 1000 Baht per hour |
| Peak Hiring | March to April and November although most schools hire throughout the year |
| Accommodation | Some schools will offer staff accommodation |
| Airfare | Some schools will offer an airfare |
| Teaching Hours | 20-35 hours per week |
| Holidays | Paid |
| Contract Length | Normally 1 Year |
| Inexpensive Meal | 55 Baht |
| Apartment | 4,000 to 15,000 Baht per month |
| Coffee | 20 - 50 Baht |
| Ability to save | Low |
| Minimum Requirements | 120- Hour TEFL Certificate and Degree |
Start Dates
All year round
Salary and benefits
You can expect to get paid between 30,000 to 40,000 Baht per month. Your income can be supplemented by private tuition, which can increase your monthly income to at least 50,000 Baht. This is more than enough to have a great life in Thailand.
Contract
10-12 months
Requirements
Valid Passport
Visa and Work Permit
120-hour TEFL qualification. Enjoy TEFL can help you with this.
Degree Certificate
Police check from home country
Locations
Bangkok and the provinces
Visa
Work permit, which is often supplied by your school
Holiday
All national holidays and at 4 weeks when you agree to a 12 month contract
Budget
You must pay for the following:
Your flights
Your Visa
Your police check
Any other documentary evidence, which is required by the school.
Travel Insurance for the duration of your trip.